For the earth and well-being of all people .

NOVEMBER 27, 2003 - PBS / FARMAID BROADCAST - Sound Stage
Farm Aid
COLUMBUS, Family farming is essential to keeping quality food.

NOVEMBER 25-30, 2003
The Guacamole Fund
The Guacamole Fund has played roles of educational, environmental, cultural, social change and service events since 1974. For the Thanksgiving holidays, they are having a benefit memorabilia auction to support their ongoing important work. The auction will run from November 25 at 2:45 PM through 2:45 PM on November 30, 2003. The auction include posters, tshirts and other special items from past music benefit events; including Bonnie Raitt, Bruce Springsteen, David Crosby, Stephen Stills, Graham Nash, Neil Young, Jackson Browne, Joan Baez, Eric Clapton, Carl Wilson and many others.
NOVEMBER 8, 2003
NYC Friends of Clearwater
NYC Friends of Clearwater, with the cooperation of our friends at Indian Point Safe Energy Coalition (IPSEC), is bringing to life The Indian Point Song Sampler CD, by producing a "live concert" with many of the performers of the creatively poignant CD and other artists -- singing to "close" The Indian Point Nuclear Power Plant in Buchanan, NY.
When: Sat. night, Nov. 8, 2003, 8 PM - 11 PM.
Where: The Jewish Home and Hospital Auditorium 120 W. 106th Street, between Amsterdam & Columbus Avenues.

OCTOBER 26, 2003
Songwriters Benefit Concert
Carole King will perform some of her greatest songs at the first "Songwriters Salon" on Sunday, October 26. The event, (which was founded in 1982 by parents, educators and community members as a model school and family support organization), will present the legendary songwriters performing their songs in an intimate setting, benefitting hearing-impaired children and their families.
OCTOBER 25-26, 2003
The 17th Annual Bridge School Benefit Concert
The 17th Annual Bridge School Benefit Concert - Neil/Pegi Young
October 25th and 26th, 2003
Shoreline Amphitheater
Mountain View, CA
http://www.bridgeschool.org

OCTOBER 23, 2003
Lifetime - Fight Breast Cancer
Lifetime's 4th Annual concert. The annual concert dedicated to raising awareness of the fight against breast cancer. October 23 at 10 pm et/pt.
OCTOBER 18, 2003
SIMON & GARFUNKEL REUNION TOUR
Paul Simon & Art Garfunkel will embark on their first concert tour in 20 years on October 18th. Old Friends: The 2003 Concert Tour will visit arenas across North America, concluding in mid-December. www.paulsimon.com www.artgarfunkel.com
OCTOBER 10, 2003
HONOR THE EARTH - www.honorearth.org
CHARLOTTE, N.C., Sept. 12 /PRNewswire/ -- Indigo Girls, Dixie Chicks and Ben Folds will combine their talents in a concert event next month to raise money for the Honor the Earth foundation.
OCTOBER 8, 2003
CAROLE KING
Carole King, Paul Newman, and Robin Williams Lend Their Talents to Westport Country Playhouse Fundraiser. October 9th, at the Hyatt Regency in Greenwich, Connecticut, Carole King will perform at a benefit to support the renovation of the Westport Country Playhouse.
OCTOBER 4, 2003
David Crosby & Graham Nash - Benefit Concert for Grace Center
Pasadena, CA
On Saturday, October 4th, David Crosby and Graham Nash will headline an all-star benefit event honoring the work of the Pasadena-based Grace Center, a non-profit organization serving women and children afflicted by domestic violence. This rare, intimate acoustic show will also feature singer-songwriters Paula Cole, Julia Fordham and Judith Owen.
OCTOBER 2003
JACKSON BROWNE FALL TOUR
To purchase Benefit tickets WWW. GUACFUND.ORG
SEPTEMBER 29, 2003
The Blues
PBS
See Bonnie's performance in the Wim Wenders' film, "The Soul of a Man," airing Sept. 29th on PBS as part of the widely anticipated seven-night series "Martin Scorcese Presents The Blues." The Series begins airing on September 28th (check your local listings.) Visit "The Blues" on PBS website http://www.pbs.org/theblues/
-Jeff Beck -Big Bill Broonzy -Ruth Brown -Willie Brown -Paul Butterfield -Ray Charles -Sam Chatmon -Marshall Chess -Eric Clapton - Shemekia Copeland -Ida Cox -Cream -Bo Diddley -Willie Dixon -Fats Domino -Dr. John -Rosco Gordon -Buddy Guy -W.C. Handy -Corey Harris -Alvin Youngblood Hart -Jimi Hendrix -Billie Holiday -John Lee Hooker -Lightnin' Hopkins -Son House -Howlin' Wolf -Mississippi John Hurt -Elmore James -Skip James -Blind Lemon Jefferson -Blind Willie Johnson -Robert Johnson -Tommy Johnson -Tom Jones -Albert King -B.B. King -Chris Thomas King -Sam Lay -Lead Belly -J.B. Lenoir -Little Richard -Alan Lomax -Brownie McGhee -Magic Slim -Taj Mahal -Taj Mahal -Memphis Minnie -Muddy Waters -Willie Nix -Junior Parker -Charley Patton -Sam Phillips -Professor Longhair -Gertrude "Ma" Rainey -Bonnie Raitt -Jimmy Reed -The Rolling Stones -Bobby Rush -Otis Rush -Bessie Smith -Mamie Smith -Victoria Spivey -Koko TaylorSonny Terry -Sister Rosetta Tharpe -Big Mama Thornton -Ali Farka ToureBig Joe Turner -Ike Turner -Otha Turner -Stevie Ray Vaughan -Eddie "Cleanhead" Vinson -T-Bone Walker -Bukka White -Cassandra Wilson -Sonny Boy Williamson -Jimmy Witherspoon -Peetie Wheatstraw
SEPTEMBER 29, 2003
CAROLE KING
Monday September 29th, 2003 Boston, MA
SEPTEMBER 28, 2003
6TH ANNUAL VALLEY MUSIC FESTIVAL - CALIFORNIA
Bringing art to life...and life to art.

A Special Benefit for Arts Outreach. David Crosby with CPR and Neil Young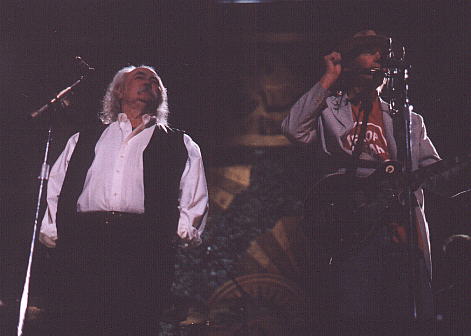 photo: jeffrey smith
SEPTEMBER 24, 2003
DAVE MATHEWS - Benefit Fund for Public Schools of New York City
On Wednesday, September 10, 2003, an instant ticket sale will open to the general public on the Dave Matthews Band site for an allotment of tickets to the special performance on September 24, 2003 in Central Park. Please check theDave Matthews Band website for the sale announcement. The Dave Matthews Band performance is part of the AOL Concert for Schools. The concert will benefit The Fund for Public Schools of New York City and the Music Resource Center of Charlottesville, VA.
SEPTEMBER 23, 2003
ADOPT A MINE FIELD
Paul McCartney and James Taylor Live for first time in 25 years to support Adopt-A-Minefield and its work clearing minefields and helping landmine survivors.
SEPTEMBER 14, 2003
JACKSON BROWNE BENEFIT CONCERT
Saratoga, CA
4th Annual Fundraiser for All Stars Helping Kids & Montalvo Education & Outreach

The afternoon concert, opened by youth from the San Jose Jazz Society, will be held on the Front Lawn of the historic Villa where guests will enjoy a festival-style atmosphere. Premier concert tickets include a post-event reception in the Villa, catered by Avenir Restaurant Group, and a silent auction that features artwork by Keith Wicks, Barbara McCann and Sergey Smirnov, provided by The Fingerhut Gallery. In addition, the auction will feature artwork provided by each of All Stars' community projects, including Sacred Heart Nativity School, UCSF Children's Hospital, Eastside College Prep and YoungLife.
SEPTEMBER 13, 2003
Illinois - Jefferson Starship Benefit For Pads
09/13/03 07:00 PM
McHenry County PADS welcomes Jefferson Starship to the stage at the Raue Center for Performing Arts in Crystal Lake, Illinois.
SEPTEMBER 13, 2003
A BENEFIT FOR THE VENTURA HILLSIDES CONSERVANCY
VENTURA HILLSIDES MUSIC FESTIVAL
JACKSON BROWNE, JACK JOHNSON, CHRIS HILLMAN & HERB PEDERSEN plus special guests
SEPTEMBER 7, 2003
FARM AID - Columbus, OH
Dave Matthews, John Mellencamp, Willie Nelson, and Neil Young will perform at Farm Aid on Sunday, September 7, 2003 at the Germain Amphitheater in Columbus, OH. The public on-sale date for Farm Aid tickets is Saturday, June 28, 2003 at 10 a.m. Eastern Time.
Update: Sheryl Crow, Brooks & Dunn, and Trick Pony Added to Stellar Show; more acts to be announced: Emmylou Harris
Vanessa Carlton, Hootie & the Blowfish, Daniel Lanois, Los Lonely Boys, Aaron Brotherton, Titty Bingo and Billy Bob Thornton will join Willie Nelson, Neil Young and Crazy Horse, John Mellencamp, Dave Matthews, Sheryl Crow, Brooks & Dunn and Trick Pony on Sunday, Sept. 7 at Germain Amphitheater in Columbus, Ohio.
The mission of Farm Aid is to provide assistance to poor and needy families in rural farming communities and to conduct a musical concert to draw attention to the needs of such families and to raise funds to relieve those needs. Farm Aid brings together the common interests of family farmers, consumers, and people who care about the environment. Farm Aid's goal is to keep family farmers on their land and to restore a strong family farm system of agriculture. www.farmaid.org _
SEPTEMBER 2003
CROSBY STILLS & NASH SUMMER TOUR _
Gold & Silver Circle Seating. To benefit organizations working in the public interest.

September 1, 2003
2003 JERRY LEWIS MDA TELETHON
August 23,24 2003
SolFest 2003 - The Solar and Good Living Festival Project

The Guacamole Fund is very proud to again be helping to produce SolFest. This will be our third year and we encourage any of you that are interested in renewable resources and organic and a healthful way of living to come to SolFest - great workshops, great exhibitors, great music and a great vibe at a great price. $15 advance; $20 at the door.

SolFest 2003 is slated for August 23rd and 24th at the 12-acre Real Goods Solar Living Center in Hopland, 94 miles north of San Francisco. We are underway with plans to bring you the best ever weekend of incredible education mixed with fun.

Join us to experience first hand the latest renewable energy technologies and healthy lifestyle practices. Meet kindred spirits working on thecutting edge of technology and future thinking to pioneer innovative solutions and sustainable lifestyles. Find out what's hot in renewable energy systems (such as solar roofing), learn about hydrogen fuel cells as well as efficient, environmentally sound building materials that will help you achieve your goal of walking lightly on the planet and becoming energy independent.
August 19, 2003
The Tranquility Project
Chautauqua Auditorium, Boulder, CO on August 19th. Land mines litter Southeast Asia, fatal relics of darker times. The victims: children at play and indigenous wildlife. The Tranquility Project is a nonprofit action group, started by Sally Taylor whose mission is tri-fold: to extract land mines from Southeast Asian soil, to rehabilitate their innocent victims, and to raise awareness, aiding in the prevention of future land mine atrocities. The lineup for the event is Something Underground, Wendy Woo, Ben Taylor and Sally Taylor. There will also be a special guest appearance TBA.
There are gold ring tickets available at $175 which includes appetizers and drinks (hosted by Jax Fish House) with special guests... members of the James Taylor Band: Arnold McCuller, Kate Markowitz, & David Lasley, current and former Colorado Avalanche players Shjon Podien & Stephen Yelle, Jake Schroeder of Opie Gone Bad, Joe Cummings author of the Lonely Planet Thailand and many others.
AUGUST 8-9, 2003
BONNIE RAITT
8/8 - Cerritos Center for the Performing Arts in Cerritos, CA
We have our special 10/4 Club seats - 10 seats in the 4th row - a few get to go backstage for a meet and greet with Bonnie. The proceeds for these special seats will benefit The Sir Charles Blues (www.blueslab.org) and Little Kids Rock (www.littlekidsrock.org.
For 8/9 - Cerritos Center for the Performing Arts in Cerritos, CA
These Gold Circle tickets include an artist reception to benefit Hills for Everyone.
PLEASE CALL 800-728-6223 ON THURSDAY, MAY 29, 11 AM PACIFIC DAYLIGHT TIME
AUGUST 2003
CROSBY STILLS & NASH SUMMER TOUR _WWW. GUACFUND.ORG
Gold Circle Seating & Silver (preferred seat) benefit tickets available for the shows listed below
August 2 Duluth Ent Conv Ctr Arena/Duluth, MN ~ 4th row
August 5 Freedom Hill Amphitheater/Sterling Heights, MI
August 6 Rosemont Theatre/Rosemont, IL
August 8 Iowa State Fair/Des Moines, IA
August 9 Missouri State Fair/Sedalia, MO
August 22 Meadowbrook Farm/Gilford, NH ~ 4th row
August 23 FleetBoston Pavilion/Boston, MA ~ Section 2;7th row
August 25 Saratoga PAC/Saratoga, NY ~ 4th row
August 26 New York State Fair/Syracuse, NY ~ 4th row
August 28 Allentown Fair/Allentown, PA
August 30 Darien Lake Six Lakes PAC/Darien Center, NY
August 31 Mahoning County Fair/Canfield,OH ~ 4th row
JULY 30, 2003
THE ROLLING STONES
The Rolling Stones concert in Toronto Canada. The July 30 show -- which will also feature an eclectic lineup including veteran Canadian band the Guess Who, Australian hard rock group AC/DC and U.S. pop star Justin Timberlake. $21.50 CAN ($16 U.S.). http://www.ticketmaster.com
Net proceeds from the concert will benefit the newly created Health Care and Hospitality Workers Relief Fund. Additionally, $1 from each ticket sold will be automatically directed to the fund. Others on the bill include Sam Roberts, the Flaming Lips, Kathleen Edwards, the Isley Brothers, Sass Jordan and La Chicane. Dubbed Molson Canadian Rocks for Toronto, the show will be hosted by actor/musicians Dan Akroyd and Jim Belushi.
JULY 20-22, 2003
JACKSON BROWNE/STEVE EARLE & THE DUKES/KEB' MO'
For 7/20 - Marymoor Amphitheater in Redmond, WA
We have been able to secure a very limited number of benefit tickets in the 6th row
For 7/22 - Cuthbert Amphitheater in Eugene, OR We have a limited number of benefit seats in a special section in front of the sound mix
http://www.guacfund.org

JULY 19-20-25 AUG 2, 2003
BRUCE COCKBURN
Bruce Cockburn has graciously donated benefit tickets from his holds for the following concerts. These tickets will include a backstage meet and greet and will benefit the Lubicon Legal Defense Fund. http://www.guacfund.org
19 July 2003 ~ The Barrymore Theatre/Madison, WI
20 July 2003 ~ Music in the Zoo/Minneapolis, MN
25 July 2003 ~ House of Blues/Anaheim, CA
2 August 2003 ~ Meany Performance Hall/Seattle, WA
More about Bruce's tour and new album at http://www.brucecockburn.com

JULY 8-9, 2003
PEARL JAM
For Pearl Jam at Madison Square Garden on July 8 and 9, http://www.guacfund.org has benefit tickets for each night which were donated by the band.
JULY 6, 2003
JACKSON BROWNE, STEVE EARLE & THE DUKES AND KEB' MO'
Jackson Browne, Steve Earle & The Dukes and Keb' Mo':
Gold and Silver benefit tickets, some with artist after show gathering hosted by Jackson Browne, to benefit Stop Handgun Violence at the FleetBoston Pavilion For more information on Stop Handgun Violence, check out their website at www.stophandgunviolence.org

JULY 2003
CROSBY STILLS & NASH SUMMER TOUR _WWW. GUACFUND.ORG
Gold Circle Seating & Silver benefit tickets available for the shows listed below.
Canadian special! These seats for Crosby Stills and Nash will be $250CDN (Gold - with the backstage meet and greet) and $150CDN (Silver)~ the proceeds will support the Lubicon Legal Defence Fund. "The mission of the Lubicon Legal Defence Fund is to build a long term fundraising programme that will provide the Lubicon people with the financial independence they need to fight for their rights, their land, their environment, and their freedom.
July 24 Pacific Coliseum/Vancouver, BC - 4th row
July 25 Skyreach Place/Kelowna, BC ~ 4th row
July 27 Skyreach Centre/Edmonton, AB ~ 4th row
July 28 Pengrowth Saddledome/Calgary, AB ~ 4th row
July 30 Saskatchewan Place/Saskatoon, SK ~ 4th row
July 31 Winnipeg Arena/Winnipeg, MB ~ 4th row
July 12 Greek Theatre/Los Angeles, CA ~ Sec A Rows 4 & 6
July 13 Santa Barbara Bowl/Santa Barbara, CA ~ 7th row
July 15 Pacific Amphitheatre/Costa Mesa, CA
July 18 Cal Expo/Sacramento, CA
July 19 Britt Festivals @ Britt Pavilion/Jacksonville, OR
July 21 Cuthbert Amphitheatre/Eugene, OR ~ GA
July 22 Marymoor Amphitheatre/Redmond, WA ~ 6th row
JUNE 30, 2003
Vote Solar - A Benefit Concert for Alternative Energy
Henry Fonda Theater Hollywood, CA.
Come see alternative energy in action. Enjoy The Like & Phantom Planet as all lights and sound are powered by BioDiesel, the soy alternative to fossil fuel. A night of charity for www.VOTESOLAR.com includes Slim Kid Tre and Fatlip from The Pharcyde debuting their new project Edy Crahp with DJ Squeek E Clean. Hosted by comedy troupe Manifest Destinyfest and featuring visual displays by Project Ion, very special guests will make it a night to remember.
Gold Circle tickets with VIP access are also available by contacting The Guacamole Fund.
JUNE 10, 2003
THE EAGLES
Caddolakeinstitute.org
The Eagles have added a third Dallas concert to their tour. The third Dallas concert at NextStage at Grand Prairie on June 10th will be an intimate evening with a portion of the proceeds benefiting The Caddo Lake Institute.
Caddo Lake is a 40,000-acre wetland ecosystem located in Northeast Texas and Northeast Louisiana. It is the only naturally formed lake in Texas and is home to many endangered and threatened species of wildlife. Caddo Lake Institute, Inc. (CLI) is a non-profit, academic entity that supports interdisciplinary environmental study based on the preservation of the ecological and cultural integrity of the Caddo Lake ecosystem. CLI is a private operating foundation founded by Don Henley, musician and environmentalist. For more information: Caddolakeinstitute.org
JUNE 6, 2003
Santana to donate all proceeds from
the US Shaman Tour to fight AIDS / HIV in Africa
In answer to the escalating HIV/AIDS crisis in Africa, Carlos and Deborah Santana have announced they will dedicate their proceeds from the United States portion of the Shaman World Tour to Artists For A New South Africa (ANSA). Funds will be earmarked for grants and material aid to effective South African non-profit organizations working on the frontlines to combat HIV/AIDS through prevention, treatment, care, destigmatization, advocacy, infrastructure development and mitigation of impact.

JUNE 6, 2003
Children's Music Network - Chicago
Midwest-Great Lakes Regional Gathering June 6 - Sunday, June 8 World Folk Music Company 1808 W. 103rd Street, Chicago
The Children's Music Network is a national nonprofit organization of performers, song writers, educators, librarians, families, and others who share and promote music for and about children which expresses a philosophy of multicultural diversity and awareness, nonviolence, and children's rights and issues.

JUNE 6-8, 2003
Pete Seeger and the Peoples Music Network
PEOPLES MUSIC NETWORK for Songs of Freedom and Struggle: Imagining Peace
UNIVERSITY SETTLEMENT CAMP BEACON, NY
2003
JUNE - AUGUST TOUR
BOSTON - SIERRA CLUB
Tom Scholz, the founder of the popular rock band BOSTON, announced the band will benefit the Sierra Club by donating $1.00 from every ticket sold on its upcoming nationwide summer tour. The Sierra Club will use the donations in its efforts to protect America's communities by fighting for clean air and water, fighting to clean up toxic waste sites, and safeguarding America's majestic landscapes. www.bandboston.com www.kimberley.de
MAY 31, 2003
CHICAGO AREA
Benefit the 60's Museum
Saturday, May 31st at 7:00pm at - THE LOFT RESTAURANT
MAY 28, 2003
Austin, TX
To Benefit the Rhythm & Blues Foundation Pioneer Honorees for 2003
Ray Benson, Ruth Brown, Bonnie Raitt and Jimmie Vaughan will come together for a one-time performance to benefit the Rhythm & Blues Foundation Pioneer
Honorees for 2003. These four legendary performers will appear at The Backyard in Austin, TX on May 28th to pay tribute to some of the artists that are credited with influencing today¹s music.

Tickets are available by calling 512-469-SHOW; Info 512-263-4146 x27; and go on-sale online at www.thebackyard.net on Saturday, April 26th. Prices are
tiered in the following way: limited VIP tickets priced at $250 VIP Tickets that include a Meet & Greet reception with performers after the show, special seating, private bar service and VIP parking; $150 Tickets that include Tree Deck seating, private bar service; $60 Reserved Seats; $45 Reserved Seats and $35 for General Admission. The show is set to start at 7:00 PM
MAY 27, 2003
Luciano Pavarotti
Opera singer Luciano Pavarotti and Bono are teaming up for a charity concert to raise money for Iraqi civilians affected by war. They will appear together at the10th annual Pavarotti and Friends charity concert in the tenor's home town of Modena, Italy, in May. The funds will go to the UN High Commission for Refugees (UNHCR), which is preparing for a refugee crisis in the Middle East.
MAY 26, 2003
Bob Geldof
UNICEF takes Bob Geldof back to Ethiopia
Monday, 26 May 2003, 1:47 pm

Ethiopia is in the midst of a severe humanitarian emergency that is threatening some 14 million people, most of them children. Drought, flood, malnutrition, disease among children and HIV/AIDS are all part of the complex crisis. Ethiopia is also one of the five poorest countries in the world, with an estimated gross national income of just $100 a year per person. The five-day UNICEF visit will begin in Addis Ababa on Tuesday 27 May. Geldof will see firsthand the challenges the country faces today, 20 years after he first visited Ethiopia and launched a world-wide campaign to save the East African nation from famine.

Geldof's visit, facilitated by the UNICEF office in Ethiopia, will enable him to witness the current humanitarian crisis and explore the longer-term development challenges that are compounded by debt and trade disadvantages. He will visit UNICEF relief projects for children, speak with government officials and members of the diplomatic community, and meet with other key humanitarian players. More at: bobgeldof.info
MAY 25, 2003
PBS - Willie Nelson
PBS has been broadcasting the National Memorial Day Concert for years from Washington. 8 p.m. Sunday on KUED Channel 7. Cable's USA Network is trying to establish another Memorial Day tradition, paying tribute to a grand, old-fashioned musical man, who, to many of his fans, represents a breathing symbol of America. Willie Nelson, one of the greatest songwriters in U.S. history. Nelson celebrates his 70th birthday at 7 p.m. Monday on USA in a two-hour concert with a few friends ranging from beardo rock heroes ZZ Top to uptown jazz lady Diana Krall. This year, the show is called "Willie Nelson and Friends: Live and Kickin'." The site was New York's Beacon Theatre, the show was recorded live April 9. The musical assistants included Paul Simon, Elvis Costello, Norah Jones, Eric Clapton, Ray Charles, Wyclef Jean, Lyle Lovett, Toby Keith, Steven Tyler, Sheryl Crow, Ray Price, Shelby Lynne and Shania Twain. Among the hosts: Robert De Niro, Whoopi Goldberg and Bill Clinton.
May 10, 2003
Charlie King benefit for Scott Schaeffer-Duffy, Merr. College, Mass.
Charllie King - Merrimack College, North Andover, Mass at the corner of 114 and 125, 6PM concert and potluck downstairs from the Collegiate Church of Christ the Teacher - An evening of reflection and songs of peace
May 8, 2003
www.stephenstillsmusic.org
Stephen Stills of Crosby, Stills, Nash and Young to help the marching band program at the University of Florida. The money bolsters UF's fund-raising efforts to build a $2.6 million band hall addition next to the existing School of Music, which will include a new band library, an instrument and uniform storage room and a 4,500-square-foot band rehearsal room .

May 7, 2003
States across the country are facing the worst budget crisis in 50 years. Public service employee jobs and our families' benefits are in jeopardy. And some of the important services we provide to our communities are facing serious cuts. Across the country, working families are uniting to ask our representatives in Congress to Put Families First by taking action to help states avoid drastic cuts to health care and other public services.
May 5, 2003
Dave Matthews Band
"An Acoustic Evening with Dave Matthews and Tim Reynolds" at the Mullins Center, University of Massachusetts,
Amherst, MA on Monday, May 5 at 7:00 p.m. The performance will benefit The Tiger Kloof School in South Africa. Tickets will be $49.50 each. The Tiger Kloof School was originally opened in the 1940s, but closed in 1962 due to apartheid. David J Matthews (Dave Matthews' uncle), re-opened the school in 1995. "He literally resurrected a school dead for forty years, rebuilt, brick by brick, a school reclaimed by the wild," with a mission to instill Gandhi's values, in hopes of developing deep moral consciences in his students.
May 1, 2003
Artist Groups Insist Public Voices Be Heard
On Proposed Media Ownership Rule Changes
In a letter sent today, a diverse group of recording artists urged FCC Chairman Michael Powell to grant Congress and the public a full opportunity to review any proposed changes of media ownership rules before they are enacted.
April 21, 2003
Hope (For the Children of Iraq)
1. Loving The Alien - David Bowie 2. Calico Skies - Paul McCartney
3. The Grave - George Michael 4. Vietnam - New Order
5. Peace Train - Yusuf Islam 6. Love's in Need of Love Today - Beverley Knight
7. In The Ghetto - Ronan Keating 8. The Beautiful Occupation - Travis
9. Stand up as People - Lee Ryan 10. Nearer - Moby
11. Love Is The Answer - Bassment Jaxx feat. Yellowman 12. We Got to Have Peace - Charlatans
13. Ooh Child - Beth Orton 14. The Wolf Covers Its Tracks - Billy Bragg
15. Hold On (War Child Mix) - Spiritualised 16. Ms Dynamite feat. George Michael - Faith
17. Border Song - Tom McRae 18. Knocking on Heaven's Door - Avril Lavigneu
April 21, 2003
Jackson Browne - Albuquerque
Monday, April 21st at 1:00 PM - Pacific Time: We are very happy to report that we have more benefit tickets to sell for the Journal Pavilion in Albuquerque, NM on July 29th, 2003. The Guacamole Fund http://www.guacfund.org
APRIL - MAY 2003
Europe: Neil Young
April 22 -Cirkus Stockholm, Sweden
April 23 -Oslo KonsertHus Oslo, Norway
April 25 -Grieghallen Ole Blues Festival Bergen, Norway
April 27 -Falconer Salen Copenhagen, Denmark
April 29 -CCH Hamburg, Germany
April 30 -Tempodrom Berlin, Germany
May 1 -Alte Oper Frankfurt, Germany
May 5 -Philharmonie Munich, Germany
May 7 -Liederhalle Stuttgart, Germany
May 8 -Heineken Music Hall Amsterdam, Holland
May 11 -Vicar Street Dublin, Ireland
May 12 -Vicar Street Dublin, Ireland
May 13 -Vicar Street Dublin, Ireland
May 23 -Koningin Elisabethzaal Antwerp, Belgium
May 24 -Palais des Congrès Paris, France
June 13-15 -Bonnaroo Festival 500 acre farm, Manchester, Tennessee
Neil Young & Crazy Horse (-Billy Talbot -Ralph Molina -Poncho Sampedro), The Dead, Widespread Panic, James Brown, The Allman Brothers Band, Ben Harper & the Innocent Criminals, Jack Johnson, moe., Galactic, Alison Krauss & Union Station feat. Jerry Douglas, The Flaming Lips, The Roots, Bela Fleck & the Flecktones, Emmylou Harris, Medeski Martin & Wood, Sonic Youth, The funky Meters, Leo Kottke & Mike Gordon, Yonder Mountain String Band, Robert Randolph & the Family Band, Nickel Creek, G. Love and Special Sauce, Tortoise, Sound Tribe Sector 9, O.A.R., North Mississippi Allstars, Warren Haynes, Keller Williams, Garage A Trois, Ben Kweller, Mix Master Mike, Polyphonic Spree, Kid Koala, Z-Trip, Particle, Spearhead, Antibalas Afrobeat Orchestra, The Slip, Cyro Baptista's Beat the Donkey, DJ Spooky, Jon Cleary & the Absolute Monster Gentlemen, The New Deal, RJD2, My Morning Jacket, Topaz, Vusi Mahlasela of Amandla!, Drive-By Truckers, Robinella & the CC String Band, Kaki King, RAQ, Jason Mraz, The Trachtenburg Family Slideshow Players.

April 26, 2003
Bonnie Raitt and John Mayer
Grammy award winning artists Bonnie Raitt and John Mayer will perform an acoustic benefit concert for The Songbird Foundation on Saturday April 26th, at 8:00pm at Boston's Orpheum Theatre. Other musical guests who will join Raitt and Mayer throughout this special evening include Marta Gómez and Danny O'Keefe. The concert celebrates the many organizations developing sustainable strategies for growing coffee, the second most traded commodity in the world. The concert coincides with the Specialty Coffee Association of America's annual conference and exhibition being held in Boston from the 25th-28th of April. Gold and Silver Circle tickets, including artist reception. For more information. The Guacamole Fund
APRIL 1, 2003
CROSBY STILLS & NASH TOUR
BENEFIT TICKETS
The Guacamole Fund
Crosby Stills and Nash have graciously allowed us to sell premium tickets to their Bozeman, MT concert on April 1st at the Brick Breeden Fieldhouse. These seats are in the 8th row and will include a backstage pass to meet with David Crosby and/or Graham Nash after the show. Proceeds will benefit the Buffalo Field Campaign and their efforts to save the last wild herd of bison, the Yellowstone Buffalo.
APRIL 2003
ANI DIFRANCO
4/10 Cleveland, OH Palace Theater
4/11 Toledo, OH Stranahan Concert Hall
4/12 Joliet, IL Rialto Square Theatre
4/14 Bloomington, IN IU Auditorium
4/15 Louisville, KY Louisville Palace Theatre
4/17 Lexington, KY Singletary Ctr for the Arts
4/18 St. Louis, MO The Pageant
4/19 Kansas City, MO Uptown Theater
4/21 Colorado Springs, CO Pikes Peak Center
4/23 Denver , CO The Paramount Theatre
4/26 Santa Fe, NM Paolo Soleri Amphitheatre
4/27 Tucson, AZ The Rialto Theatre
Paul MCartney Europe Tour
START: MARCH 25TH 2003 -
PARIS, FRANCE
Paul McCartney
James Taylor
March 25, 2003
March 22 Dublin, Ireland The Pointe
March 24 Cardiff, UK Cardiff International Arena
March 25 London, UK Mermaid Theatre Will be broadcast on BBC Radio 2 on March 29 at 9 p.m.
March 27 Sheffield, UK Sheffield Arena
March 28 Bournemouth, UK International Centre
March 30 Birmingham, UK NEC Birmingham
March 31 Brighton, UK Brighton Centre
April 2 Amsterdam, The Netherlands Heineken Music Hall
April 2 PBS 9 p.m. Eastern "American Masters - Joni Mitchell: Woman of Heart and Mind"
Includes interviews with JT, David Crosby, Graham Nash, Wayne Shorter, Herbie Hancock, David Geffen, and others.
April 4 Paris, France Olympia OlympiaHall.com
April 5 Brussels, Belgium Palais des Beaux Arts
MARCH 16, 2003
The World
It's time for the world to come together in this moment of darkness and rekindle the light of reason -- and of hope. commitment to building a positive world for our children.
MARCH 13, 2003
JACKSON BROWNE

International Centre Bournemouth, England
March 15 Queen Elisabeth Hall Antwerp, Belgium
March 16 La Cigale Paris France
March 18 Heineken Music Hall Amsterdam, Netherlands
March 19 Musikhalle Hamburg, Germany
March 20 Schiller Theater Berlin, Germany
March 22 Tobakken Esbjerg, Denmark
March 23 Oslo Konserthus Oslo, Norway
March 24 Annexet Stockholm, Sweden
March 26 Portalen Greve (Copenhagen), Denmark
March 28 The Dome Brighton, England
March 29 Warwick Arts Centre Coventry, England
March 30 Manchester Opera House Manchester, England
April 1 Theatro Nazionale Milan, Italy
April 2 Palasport Verona, Italy
April 3 Roma Auditorium Roma, Italy
April 5 Razzmatazz Barcelona, Spain
April 6 Auditoprode Murcia, Spain
April 7 La Riviera Madrid, Spain
April 8 Auditorm Kursal San Sebastian, Spain
April 28 Osaka Festival Hall Osaka, Japan
April 29 Aster Plaza Hiroshima, Japan
May 2 Nakano Sun Plaza Tokyo, Japan
May 3 Nakano Sun Plaza Tokyo, Japan
May 4 Nakano Sun Plaza Tokyo, Japan.

March 2003
CAROLE KING CONCERT SPECIAL ENCORES ON PBS
LOS ANGELES, CA, January 27, 2003 - Back by popular demand, PBS will be re-airing Carole King's 1994 concert special as a part of their national fundraising event in March. "Carole King: A New Colour in the Tapestry," which was taped at the Bushnell Theater in Hartford, Connecticut, offers a rare opportunity to see the legendary singer/songwriter in a concert setting, performing some of the most notable songs from her extraordinary career. Featured in the program's pledge breaks will be music videos from Carole's latest studio album, Love Makes the World (which is also being offered as a pledge premium). "Carole King: A New Colour in the Tapestry" airs nationally in March. Local stations can choose to air the program prior to the national air date, so please check listings for dates and times in your area.
. http://www.caroleking.com www.pbs.org
March 7, 2003
International Women's Day
On Friday, March 7th, the eve of International Women's Day, CodePink will present a very special evening of music, comedy and poetry featuring Alice Walker, Cris Williamson, Elayne Boosler and Michelle Shocked. The 8:00 PM benefit concert will take place at Lisner Auditorium on the campus of George Washington University. Special guests include vocal artist Rachel Bagby and author Susan Griffin. Others to be announced. Saturday, March 8th, a rally celebrating women as Global Peacemakers.
March 5, 2003
Singer/songwriter/activists Carole King and James Taylor
joined Representatives Christopher Shays (R-CT) and Carolyn Maloney (D-NY), to reintroduce the Northern Rockies Ecosystem Protection Act (NREPA) in Washington, DC on March 5, 2003. For the first time in its 12-year history, the bill is rolling out with over 100 congressional cosponsors. King has been an advocate for NREPA for the past 12 years.

NREPA will save taxpayers over $245 million in the next ten years and will create 2300 new jobs, which has caught the eye of both Republicans and Democrats. NREPA will protect the bioregion known as the Wild Rockies, spanning five states: Washington, Oregon, Idaho, Montana and Wyoming. This region is home to bison, elk, and grizzly bears that are losing land to roam on due to the subsidizing of logging companies.

You can make a difference. Get involved in saving your environment. For further information go to: http://www.wildrockiesalliance.org/issues/nrepa/
February 15, 2003
SMALL KINDNESS
February 7, 2003
Martin Scorsese Presents a Salute To the Blues
Bonnie Raitt, BB King, and Others
Concert Radio City Music Hall - 8:00 p.m.
Avery Fisher Hall
NEW YORK CITY, NY.
http://bonnieraitt.com
This benefit concert at Radio City will feature a wide range of acclaimed artists coming together to celebrate the blues. The concert will be filmed for theatrical release, with Antoine Fuqua as director and Martin Scorsese as executive producer. Radio City Music Hall in New York City will host the Salute to the Blues Concert, on February 7th. Bonnie will join B.B. King, Robert Cray, Lyle Lovett, Aaron Neville, Keb¹ Mo¹, Dr. John, David Johansen, Vernon Reid, Shemekia Copeland, Mavis Staples, Gregg Allman, Chuck D, Macy Gray, Aerosmith and others in a grand tribute to the Blues and its evolving place in music and cultural history.

February 7, 2003
Crosby Stills & Nash Benefit
Proceeds to benefit The Discovery Fund for Eye Research
LINCOLN CENTER FOR THE PERFORMING ARTS
Avery Fisher Hall NEW YORK CITY, NY.
http://crosbystillsnash.com

February 6, 2003

Los Angeles, CA - (December 23, 3003) - NRDC (the Natural Resources Defense Council) announced today that the Rolling Stones will perform a special free concert to raise awareness about global warming and climate change on February 6, 2003 at STAPLES Center in Los Angeles, CA.

February 2, 2003
A Concert For The People - South Africa
The first list of artists for the Mandela SOS concert has been announced. Appearing at the February 2 event in South Africa are Dave Stewart of The Eurythmics, Queen, Yusuf Islam (formally known as Cat Stevens), Joe Strummer of The Clash, Bono, Baaba Maal, Macy Gray, Nelly Furtado, Jimmy Cliff, Deborah Cox, Ms. Dynamite, Shaggy, Eve, Ludacris, Angelique Kidjo, Yvonne Chaka Chaka, Johnny Clegg, Bongo Maffin, Vusi Mahlasela, and Femi Kuti.

A People's Concert will take place simultaneously at South Africa's Green Point Stadium, alongside the SOS concert at Robben Island - where Mandela was imprisoned for 27 years. The People's Concert will broadcast live footage from the Robben Island event with many artists performing on both stages. Nelson Mandela, host of the event, sent a cry of SOS to the world earlier this month, imploring a global community to address the HIV/AIDS crisis rampant in Africa. Africa has been hit harder by HIV/AIDS than any other region of the world with more than 17 million dead from the disease and another 28.1 million infected with HIV. Currently, there are 11 million AIDS orphans in Africa and experts say without urgent action there may be more than 25 million by the end of this decade.

"HIV/AIDS is not only a health issue but has risen to become a human rights crisis," Mandela said. "I am asking each person in every country not to be silent witnesses to this devastation but to answer our SOS by raising both awareness and the vital funds necessary to fight and win against this disease." Tickets to the concert are free and will be distributed by competition or lottery, details of which will be announced. There will be live coverage of the event on mwww.mandelasos.com, as well as a global TV broadcast.
January 24-26, 2003
PEOPLE'S MUSIC NETWORK - PETE SEEGER & FRIENDS
http://www.peoplesmusic.org
Winter Gathering 2003
January 17, 2003
NAMM Concert for Music Education
NAMM concert, presented by Yamaha. The benefit will be held at the Arrowhead Pond in Anaheim, California. During the concert Elton John will receive Yamaha's 2003 Lifetime Achievement in Musical Excellence Award. Other artists set to appear include Ray Charles, Diana Krall and Norah Jones. NAMM is the International Music Products Association. Proceeds from the concert will go towards the American Music Conference (AMC), a national non-profit educational association dedicated to promoting the importance of music and music education.
http://www.namm.com
January 10, 2003
Nobel Peace Concert 2002
Artists from around the world perform in a 2-hour musical tribute to Jimmy Carter, former President of the United States and 2002 Nobel Peace Prize winner. Hosted by Anthony Hopkins and Jessica Lange, the show features performances by Carlos Santana, Michelle Branch, Willie Nelson, Jennifer Lopez, Angelique Kidjoe, Josh Groban, and others.
January 9, 2003
Aperture's 50th anniversary Event
Aperture's 50th anniversary celebrations will culminate with a star-studded benefit gala at Sotheby's New York on January 9, 2003. Sir Elton John, who has been a serious collector of fine art photography for many years, will co-chair the event with Susan Gutfreund, who chaired Aperture's 2000 Cotton Mary Benefit Dinner, and Ismail Merchant, of Merchant Ivory Productions. The first Aperture/Michael E. Hoffman Award, in memory of Michael E. Hoffman, Aperture's Publisher and Executive Director for 37 years, will be presented to master photographer Henri Cartier-Bresson for his lifetime achievement in photography. Renowned Magnum photographer Martine Franck, Mr. Cartier-Bresson's wife, will accept the award on his behalf. Additionally, veteran environmental photographer Robert Glenn Ketchum will be presented with an award for his Lifetime Achievement in Photography and Conservation, and the Alfred Stieglitz Award for Creative Amateur Photography will be presented to Graham Nash, a seminal figure in the world of popular music, for his exceptional contribution to the photographic field. For more information, please call (212) 505-5555, ext. 341. All proceeds from the gala will help support Aperture Foundation, a not-for-profit 501C(3) educational and charitable public foundation.
January 4, 2003
A Celebration of Educational Excellence
A four-hour broadcast will air on nearly 70 stations across the country, and features performances by some of the top talent in the entertainment industry. The televised special will also provide viewers with an in-depth look at how UNCF works, and how much of a difference one donor can make in a young person's life. /www.uncf.org
November 28, 2002
Wishing for our country and the world - Peace.
December 30-31, 2002
BONNIE RAITT AND HER BAND
Celebrate the holidays with Bonnie Raitt at Caesar's Tahoe on the 30th or 31st of December. We have a very limited number of Golden Circle packages available which will benefit non-profit environmental and social change organizations that work in the public interest. The package will include preferred seating and a backstage meet and greet with Bonnie. Ring in the New Year in style by calling 800-728-6223 for these very special tickets. The Guacamole Fund
December 9, 2002
People for the American Way - A Call For Free Speech
Walter Cronkite, Kathleen Turner, Al Franken, Peter Paul and Mary and others in a call for free speech at PFAW Foundation's Dinner Dance in New York City. http://www.pfaw.org
December 5, 2002
Jammin' for the Kids
BUDDY GUY & BO DIDDLEY
Sugar Blue, Mavis Staples & Her Band, The Fabulous Thunderbirds, & Edgar Winter
The Vic Theater
November 29, 2002
Olivia Harrison And Eric Clapton Announce Tribute To George Harrison at the Royal Albert Hall
Olivia Harrison and Eric Clapton have planned a very special performance tribute in honour of George Harrison. This unique event will take place at London's Royal Albert Hall November 29, 2002 - the one-year anniversary of George's passing. The evening will feature the music of George Harrison, as well as music he loved. Performers include (in alphabetical order): Joe Brown, Mike Campbell, Eric Clapton, Jools Holland, Jim Keltner, Jeff Lynne, Sir Paul McCartney, various members of Monty Python's Flying Circus, Tom Petty, Leon Russell, Ravi Shankar and Ringo Starr. Eric Clapton will supervise the musical content of the tribute.

Proceeds from the concert will be donated to The Material World Charitable Foundation. Funded by George Harrison since its establishment in 1973, the foundation supports the arts, music, education and people with special needs.

November 28, 2002
1,500+ singing strong in Milwaukee, WI
steps of the Milwaukee Court House. - Many of us to teach with signs and songs of love.- j.smith
November 23, 2002
Keb' Mo' and Dave Alvin
GRAMMY WINNERS KEB' MO' AND DAVE ALVIN TO APPEAR IN A BENEFIT CONCERT AT THE HERMOSA BEACH CIVIC THEATRE

Grammy winners Keb' Mo' and Dave Alvin will inaugurate the Home Grown benefit concert series at the Hermosa Beach Civic Theatre on Saturday, November 23rd at 8:00 PM. Performances will be acoustic in nature and will support the Guacamole Fund and the Simpatico Foundation. The Guacamole Fund is a non-profit organization that produces benefit events for social change, environmental, cultural and service organizations that work in the public interest. The Simpatico Foundation is a non-profit organization that serves members of the musicians' and activists' communities with financial and social services. Both are located in Hermosa Beach. A limited number of Silver and Gold seats including an artist reception following the show are also available by calling the same phone numbers. The Guacamole Fund
November 19, 2002
BONNIE RAITT AND HER BAND
Orange County Performing Arts Center/Costa Mesa, CA. Proceeds will benefit anti-nuclear organizations which Bonnie supports.
November 18, 2002
BONNIE RAITT AND HER BAND
November 18, 2002 ~ Performing Arts Center Cal Poly San Luis Obispo/San Luis Obispo, CA. Proceeds will benefit Mothers For Peace and the Environmental Center of San Lyis Obispo.
November 17, 2002
BONNIE RAITT AND HER BAND IN SANTA CRUZ
NOVEMBER 17TH FOR A SOLAR AND BIODIESEL POWERED BENEFIT CONCERT
Bonnie Raitt and her band, with special guest Jon Cleary and the Absolute Monster Gentlemen will be performing at a benefit concert for Vote Solar at the Santa Cruz Civic Auditorium at 7:00 PM on Sunday, November 17, 2002. The concert will support the work of the Vote Solar Initiative and the Santa Cruz Energy Action Coalition, and the sound and lights for the concert will run on solar power and biodiesel energy.
Tickets go on sale Sunday, October 27th at 10:00 AM at the Santa Cruz Civic Box Office (831-420-5260) and all TicketMaster locations (408-998-TIXS or ww.ticketmaster.com). Special Gold and Silver Circle seating, including a post concert reception with Bonnie Raitt, are available by calling 408-799-7998. The Vote Solar Initiative is a non-profit organization born out of the successful campaign to pass a $100 million solar bond in San Francisco last year. The organization is working to bring solar power into the mainstream by helping other cities, including San Diego, Honolulu, and New York, implement similar programs. More information at www.votesolar.org.The show will be produced by the Guacamole Fund in association with Sage Productions.. The Guacamole Fund
November 13, 2002
Weather Walden Woods Benefit
Sheryl Crow and Norah Jones have signed on for a benefit concert with a twist. They, along with Paula Cole (news), Deborah Cox (news), Stevie Nicks (news), Joni Mitchell (news), Reba McEntire, Susan Tedeschi (news), and Trisha Yearwood, will perform pop, jazz, and blues standards at Stormy Weather 2002, which is described as "an evening of romance, glamour, fabulous women, and beautiful music." The show is set for November 13 at the Wiltern Theatre in Los Angeles, and tickets go on sale Sunday (October 20) at 12 noon PT via Ticketmaster. Money raised at the event will go to the Walden Woods Project and the Thoreau Institute At Walden Pond, both of which Eagles singer-drummer Don Henley (news) founded and has been actively involved with for years.
November 11, 2002
CAROLE KING CONCERT SPECIAL ENCORES ON PBS
LLOS ANGELES, CA, November 11, 2002 - Many of the biggest names in entertainment were on hand at the Kodak Theatre on November 4 for a special performance of "The World of Nick Adams" to benefit The Painted Turtle camp for children with life-threatening illnesses. Closing the evening's festivities was a surprise performance by Carole King, who performed the song "Hope" with the camp kids and the entire acting company. To see a photo of Carole and the stellar cast, click on Photos in the banner at the top of this page. "The World of Nick Adams" was penned by King's "Hope" co-writer, Hole In The Wall Gang Camp co-founder, A.E. Hotchner. The Painted Turtle camp is being developed in Lake Hughes, California, and will be the newest star in the Hole In The Wall Gang group of camps for children with life-threatening illnesses. Through the efforts of "Hotch", Paul Newman, Joanne Woodward and countless others, seven camps now exist serving thousands of children each year. For more information about The Painted Turtle and other Hole In The Wall Gang camps, go to http://www.thepaintedturtle.org, enter the site, click on Bulletin Board, then Hole In The Wall Family. http://www.caroleking.com
November, 2002
JACKSON BROWNE, TOM PETTY and the HEARTBREAKERS - Benefit Tickets
Jackson Browne and Tom Petty and the Heartbreakers have generously donated 10 tickets for each of their shows on their upcoming tour. These tickets will benefit safe energy and anti-nuclear organizations and are tax deductible to the fullest extent of the law. To order these special benefit tickets, The Guacamole Fund

November, 2002
PETER GABRIEL
All funds raised from the WITNESS Auction Site will support the work of WITNESS. WITNESS is a nonprofit organization conceived by Peter Gabriel that uses video to advance human rights. WITNESS has provided video cameras and training to 150 groups in more than 50 countries around the world. We help human rights organizations use video as evidence before courts, regional commissions and the United Nations, as a tool for public education, and as a deterrent to further abuse. WITNESS also distributes video to the media and broadcasts it online at www.WITNESS.org to learn more and to get involved.
October 31, 2002
Tickets to benefit Citizen Alert, an anti-nuclear organization working to STOP YUCCA MOUNTAIN and advocate for a nuclear free future.
Limited general admission tickets including an aftershow pass for a special meet and greet with Rod Roddy.

Very limited benefit seats for Las Vegas, NV ~ November 1 and 2. These will also benefit Citizen Alert and their efforts to STOP YUCCA MOUNTAIN, the nuclear waste dump planned for Nevada.
October 26 & 27, 2002
The 16th Annual Bridge School Benefit Concert
AThe 16th Annual Bridge School Benefit Concert will be held Saturday, October 26 and Sunday, October 27, 2002 at the Shoreline Amphitheatre at Mountain View.

SATURDAY LINEUP
Neil Young, James Taylor, Jack Johnson, Ryan Adams, Thom Yorke,Tenacious D,Foo Fighters,Vanessa Carlton,
SUNDAY LINEUP
Neil Young,James Taylor,Jack Johnson,Ryan Adams,Thom Yorke,Tenacious D,The Other Ones,Vanessa Carlton
Plus... special guests to be announced. Tickets go on sale Sunday, September 22 through

October 26, 2002
NATIONAL MARCH ON DC
October 18-19, 2002

David Crosby with Graham Nash & Friends
A Special Benefit for Arts Outreach bringing Music & Arts to Santa Ynez Valley California Schools. Solvang Festival Theater. The Guacamole Fund
October 14, 2002
Washington DC Concert for the Native American Rights Fund and the Simpatico Foundation
Little Feat will perform a benefit concert for the Native American Rights Fund and the Simpatico Foundation. The show will be held in the Lisner Auditorium in Washington, DC on Monday, October 14th at 7:00 PM. Reserved seats are $40 and student tickets are priced at $30. Gold and Silver Circle seating packages, including an aftershow reception with Little Feat and other artists, are available by calling 800-728-6223. The Guacamole Fund **Photos from the Event: www.featphoto.net
October 7-8, 2002
Concerts To Benefit Family Of Timothy White
Oct. 7 - Boston's FleetCenter and Oct. 8 at New York's Madison Square Garden
Two Concerts Will Benefit Family Of Timothy White Billboard editor in chief Timothy White, who died June 27 of a heart attack, was known as a friend to artists and their causes. Now, performers are showing their support for White by holding two benefit concerts to raise money for his wife Judy Garlan White and two sons Alexander and Christopher.

Both called "Music To My Ears: In Celebration of Timothy White," the shows will take place Oct. 7 at Boston's FleetCenter and Oct. 8 at New
York's Madison Square Garden. Confirmed for both shows are John Mellencamp, Don Henley, Sheryl Crow, and Sting. Jimmy Buffett and Brian Wilson & Roger Waters will also appear at the New York concert, while James Taylor and Billy Joel will play in Boston. More artists may be added. All artists are donating their services. There are also tentative plans for the artists to donate items for an Internet auction that will raise funds for the White family, as well as for a select number of VIP tickets to be made available that would include a reception with the artists. Tickets go on sale for both shows Aug. 26 through Ticketmaster. Tickets will be available at the FleetCenter box office Aug. 26, and at the Madison Square Garden box office Aug. 27. Ticket prices are below; net proceeds will go to the White family. As they develop, further details will be made available on http://www.billboard.com.
October 5 & 6, 2002
The 5th Annual Carl Wilson Walk Against Cancer
The 5th Annual Carl Wilson Walk Against Cancer and Benefit Concert will be held in Los Angeles, October 5 and 6, 2002. Creator of some of the most cherished and magical music in rock history, Beach Boys legend, Brian Wilson will headline this 5th annual all-star tribute to his late brother at Royce Hall on the UCLA campus, October 6, 2002. Proceeds will benefit the Carl Wilson Foundation, established by Carl's sons Jonah and Justyn to raise money for cancer research and treatment organizations. Those in Los Angeles on October 6th can join Brian Wilson and special guests Eric Clapton, Matthew Sweet, Sugar Ray, Van Dyke Parks and In Bloom for a show aiding the Carl Wilson Foundation. Wilson, a Beach Boys original member, died of cancer in 1998. The show will take place at UCLA's Royce Hall. The Guacamole Fund will have a very limited amount of Gold Circle tickets which include an aftershow reception.
October, 2002
An Evening with Graham Nash - Fall Tour
Great seats and backstage passes for Oct. 2002 tour dates to meet with Graham Nash after the show are now available for his upcoming fall tour. Tickets are tax deductible and proceeds will benefit Citizen Alert and their efforts to oppose the Yucca Mountain nuclear waste dump. The Guacamole Fund
September 21, 2002
Farm Aid
Farm Aid President and founder Willie Nelson announced that the family farm advocacyorganization will hold its 15th benefit concert on Saturday, Sept. 21 at the Post-Gazette Pavilion in western Pennsylvania, just outside of Pittsburgh. The Farm Aid 2002 lineup features co-founders Nelson, John Mellencamp and Neil Young, as well as Farm Aid's newest board member Dave Matthews. More artists will be announced soon, along with ticket prices and the concert's on-sale date. http://www.farmaid.org
September 18, 2002
Open Hearts - Clear Mines.
Adopt-A-Minefield save lives, and return land to productive use.
Wednesday, September 18, 2002
Century Plaza Hotel.Los Angeles, CA
Special Performances Paul McCartney & Brian Wilson acoustic set by Stephen Stills
September 11, 2002
911 Emergency Medical Services Benefit
John McEuen and Friends
Bemidji, MN
University Fieldhouse
September, 2002
An Evening with Graham Nash - Fall Tour
Great seats and backstage passes for Sept. 2002 tour dates to meet with Graham Nash after the show are now available for his upcoming fall tour. Tickets are tax deductible and proceeds will benefit Citizen Alert and their efforts to oppose the Yucca Mountain nuclear waste dump. For more information, call 800-728-6223 The Guacamole Fund
September, 2002
BONNIE RAITT & LYLE LOVETT
GREEN HIGHWAY TOUR Benefit Tickets
Proceeds from the sale of these 10/4 Club benefit seats will go to non-profit safe energy and anti-nuclear organizations that work in the public interest. The Guacamole Fund.
September - Labor Day 2002
Jerry Lewis Telethon
http://www.mdausa.org
August 25, 2002
Willie Nelson 10K Run For Farm Aid - Austin Texas
Run in Willie's road race to help benefit Farm Aid. http://www.willies10k.com
August 24, 2002
No Nukes On Native Lands
A benefit concert for NIRS starring John Trudell & Bad Dog
7:00pm Saturday August 24, 2002 - Washington, D. C. venue TBA http://www.nirs.org

August 17, 2002
Dan Fogelberg will be performing a solo acoustic benefit concert at the Merrill Auditorium in Portland, Maine Saturday, August 17. The benefit is for Chellie Pingree for Senate. Special guests with Dan are Gordon Bok, Cindy Bullens, Dave Mallett, and Referendum.
August, 2002
BONNIE RAITT & LYLE LOVETT
GREEN HIGHWAY TOUR Benefit Tickets
Proceeds from the sale of these 10/4 Club benefit seats will go to non-profit safe energy and anti-nuclear organizations that work in the public interest.To see below for a list of cities where these tickets are available The Guacamole Fund.
August, 2002
Tom Petty and the Heartbreakers - Benefit Tickets
Tom Petty and the Heartbreakers have generously donated 10 tickets for each of their shows on their upcoming tour. These tickets will go to benefit environmental and social change organizations that work in the public interest. These tickets are tax deductible to the full extent of the law. To see below for a list of cities where these tickets are available The Guacamole Fund. .

Jackson Browne and Tom Petty Benefit Tickets
To see below for a list of cities where these tickets are available The Guacamole Fund.
June 1, 2002
CPR - Walden School Benefit
Sexson Auditorium at Pasadena, City College/Pasadena, CA
David Crosby, Jeff Pevar, James Raymond, Andrew Ford, Steve DiStanislao Special guests will also perform.
For special seating and artist reception to benefit the Walden School, - The Guacamole Fund
May 10, 2002
Earth to LA Benefit
Carole King will perform in "Earth to LA", on May 10th at the Wadsworth Theatre in Los Angeles, a benefit for the Natural Resources Defense Council. This special evening of comedy, music, short films and more will also include Louise Goffin, Steve Martin, Larry David, Cameron Diaz, Dustin Hoffman, Martin Short, Robert F. Kennedy, Jr., Rob Reiner and Debbie Allen's Dance Academy. For more information on the Natural Resources Defense Council go to http://www.nrdc.org
Starting May 2002
Jackson Browne
The Guacamole Fund will be having special benefit tickets available during the Jackson Browne Solo Acoustic tour. Check for cities and availability: The Gucamole Fund
April 29, 2002
PAX Benefit - Emmylou Harris
April 29, 2002 - New York City, NY (Cipriani's on 42nd St. - Annual PAX Benefit). PAX works to bring an end to the gun violence epidemic in America - an epidemic that kills 10 children every day. Through innovative public health campaigns, PAX promotes practical, non-political solutions that all Americans can embrace - solutions that help to protect our families and children and work immediately to save lives.
April 17, 2002
Carly and Ben Taylor to perform at PBS Fundraiser - April 17, 2002
Ben Taylor and his band will be joining Carly Simon on stage for a benefit fundraising concert and dinner for PBS Channel 13 - WNET. The event takes place at The Plaza hotel in NYC on April 17, 2002. It is not expected to be televised..
April 13, 2002
RainForest Benefit
James Taylor will join Elton John and Sting at the annual Rainforest Benefit at New York's Carnegie Hall on Saturday, April 13. They'll be joined by Jeff Beck, Han-Na Chang, Rebekah Del Rio, Wynonna Judd, Carole King, Patti LaBelle, Lulu, Smokey Robinson, Anoushka Shankar, Ravi Shankar and Dr. Nina Simone. The theme for this year's benefit is "Give Me Love, Give Me Peace On Earth."
New York, NY
Carnegie Hall

March - May 2002
Bonnie Raitt
The Guacamole Fund will be having special benefit tickets at some of the shows during the Bonnie Raitt tour beginning in March 30, 2002. The Gucamole Fund
February - April 2002
CSNY 2002 Tour of America
The Guacamole Fund will be having special benefit tickets at some of the shows during the Crosby Stills Nash & Young tour beginning in February 2002. Look for detailed information after the 1st of the year. The Gucamole Fund
February 27, 2002
Jackson Browne will be performing a solo acoustic show for the following event:
February 27th, Benefit for the John Steinbeck Foundation
Fox Theatre
2215 Broadway
Redwood City, CA 94063
(650) 369-4119
Tickets Available February 1st **Pre-sale tickets available January 28th to "Friends of Montalvo" and KFOG registered listeners
http://www.jacksonbrowne.com
January 31, 2002
Jackson Browne will be performing a solo acoustic benefit concert this month to support: NO ON RECALL and the re-election of Gail Marshall. Lobero Theatre 8 pm Santa Barbara, CA Call 805-963-0761 for tickets. Tickets can only be purchased at the Lobero Theatre Box Office Please note: Because this is a political event, there is extra paperwork that will need to be filled out at the time your tickets are purchased / picked up.
January 19, 2002 - Washington DC
Ani DiFranco and Joe Henry Come Together for "An Evening of Music for Reproductive Freedom" Hosted by Gloria Steinem Proceeds from the Evening of Music will go to Voters for Choice Action Fund and the Revolutionary Association of the Women of Afghanistan (RAWA). Voters For Choice Action Fund trains and educates pro-choice candidates and elected officials across the country about the importance of reproductive choice. The Voters For Choice Action Fund defends the ongoing threats to our reproductive freedom on the Hill and in the White House. RAWA was established in Kabul, Afghanistan, in 1977 as an independent political/social organization of Afghan women fighting for human rights and for social justice in Afghanistan. RAWA's hope is to see a government in Afghanistan based on democratic values and that ensures freedom of thought, religion and political expression while safeguarding women's rights.
January 12, 2002 - Walnut Creek California
Animal Rescue Foundation Benefit - Dean Lesher Regional Center for the Arts in Walnut Creek, California.
On stage, the spotlight will shine on performers who donate their time to present an evening of fun and laughter while raising money for all of ARF's life-saving programs. David Crosby with CPR. Also appearing will Miss Patti Page," ranked by Billboard as the number one female vocalist of the last 50 years. Comedian Tommy Smothers along with Meredith Edwards, Keith Urban, Franc D'Ambrosio, Marc Russo, Townsend and J. T. Taylor of Kool and the Gang promise to make it a truly exciting evening http://crosbycpr.com
December 12, 2001
Elton Organizes AIDS Benefit
Sting, Bon Jovi and Matchbox Twenty are among the names that will team up with Elton John for his annual benefit concert for the Elton John AIDS Foundation. This year John's foundation has teamed up with AIDS Project Los Angeles to put together "The Concert: Twenty Years With AIDS" to commemorate the discovery of the AIDS virus. The show, which will benefit both John's foundation as well as AIDS Project Los Angeles, will be held on December 12th at the Universal Amphitheater in Los Angeles. Other acts performing at the event are Alicia Keys, Rufus Wainwright, Craig David, Pete Yorn and LeAnn Rimes. Tickets range in price from $103.50 to $1003.50 and are available through Ticketmaster. http://eltonjohn.com
December 5, 2001
MEEHAN EDUCATION FUND CHILDRENS BENEFIT CONCERT
JIMMY TINGLE, DON HENLEY & DAVID CROSBY
TSONGAS ARENA-LOWELL, MA WED DEC 5, 2001 7:30PM

Don Henley and David Crosby will headline the still-growing list of musicians and performers at the 5th Congressional District September 11th Children's Benefit Concert.
December 3, 2001
Palace of Fine Arts,San Francisco
Benefiting: The HIV/AIDS Program at Children's Hospital . Oakland HIV Education Program at New Conservatory. BAY (Bay Area Young) Positives
Help Is On The Way for the Holidays III.
2001 Cast: Confirmed performers to date include:
BONNIE RAITT
JOHN RAITT
JILL EIKENBERRY & MICHAEL TUCKER
JO ANNE WORLEY:
LINDA PURL
HOLLY NEAR
LISA VROMAN
FRANC D'AMBROSIO
PAULA WEST
SAMANTHA SAMULES
December 1, 2001
Benefit For the Rainbow Foundation to help Children with Cancer
HOUSE OF BLUES, Chicago Illinois. SATURDAY MORNING, DECEMBER 1ST AT 9:00AM http://americanenglishbeatles.com
November 12, 2001
An Evening of Words and Music
Benefit for the Gyuto Tibetan Monastery
Guthrie Theater
725 Vineland Place
Minneapolis, MN

Performances by: Jackson Browne , Greg Brown, T Bone Burnett, Guy Davis, and Sam Phillips. Readings by: Louise Erdrich and Richard Ford. Hosted by Jessica Lange and Sam Shepard

Proceeds to benefit the Gyuto Tibetan Monastery which was established in 1995 and is the first branch monastery to exist outside of Tibet and India. Tickets available through the Guthrie Box Office - http://www.jacksonbrowne.com
October 20 & 21, 2001
Bridge Benefit XV
The Bridge School is an educational program dedicated to ensuring that children with severe speech and physical impairments achieve full participation in their communities through the use of augmentative & alternative means of communication (AAC) and assistive technology (AT) applications. http://www.bridgeschool.org
October 21, 2001
Willie Nelson 10K Race for Farm Aid
Austin, Texas
Willie Nelson's 10K run will benefit the Farm Aid Organization. After the 10K race there will be a concert which is free to participants of the race. DATE SUNDAY OCTOBER 21, 2001 ENTRY FEES EARLY $30 LATE(at expo) $40 RACE START TIMES 5K & 10K 6 pm CONCERT 8 pm. THE CONCERT IS FREE TO RUN PARTICIPANTS WITHOUT PARTICIPATION THE COST OF THE CONCERT IS $40 ADULTS CHILDREN(12 & under)$20 http://www.willies10k.com
October 1 & 2, 2001
Music and Arts Funding Benefit/Santa Ynez Valley
Arts Outreach Valley Music Benefit put on by David and Jan Crosby to contribute to the Music and Arts funding for the school children of the Santa Ynez Valley. CPR & Clint Black. http://crosbycpr.com
September 29, 2001
Farm Aid 2001
Verizon Wireless Music Center, Noblesville, Indiana
DATE: Saturday, September 29, 2001
PLACE: Verizon Wireless Music Center,
Noblesville, Indiana, located just north of Indianapolis. Additional information will be updated on Farm Aid's website: http://www.farmaid.org

The Guthrie Center (Fall Benefit)
10/05/01
Housatonic, MA Please visit www.arlo.net for information.
"America: A Tribute to Heroes"
09/21/01 http://www.tributetoheroes.org
Julia Roberts and others will participate in a television event: the "America: A Tribute to Heroes" telethon, organized for relief efforts for the thousands of people who have directly suffered from the terrorist attack on America. Current participants include NEIL YOUNG, WILLIE NELSON, TOM CRUISE, BRUCE SPRINGSTEEN, TOM HANKS, WILL SMITH, ROBERT DE NIRO, GEORGE CLOONEY, CAMERON DIAZ, SHERYL CROW, STEVIE WONDER, JIM CARREY, BON JOVI, DIXIE CHICKS, FAITH HILL, BILLY JOEL, TOM PETTY, PAUL SIMON, CLINT EASTWOOD, KELSEY GRAMMER, CALISTA FLOCKHART, DENNIS FRANZ, CONAN O'BRIEN, RAY ROMANO, SELA WARD, ROBIN WILLIAMS and more. ABC, NBC and CBS -- will unite with UPN, The WB, HBO and a variety of other cable networks to present the live two-hour commercial-free simulcast (from 9-11 p.m. on Eastern and Central time zones and tape-delayed in the Mountain and Pacific time zones).
James Taylor - Nature Conservancy Benefit
09/19/01
Sun Valley, ID
Hepititis Benefit - Phil Lesh & Friends
09/15/01
Saturday, September 15th at the Fillmore, San Francisco, CA An Evening with Phil Lesh with special guests: Rob Barraco Jimmy Herring John Molo Susan Tedeschi Derek Trucks Doors and show time are to be announced. All tickets are general admission. They were only able to fill orders postmarked August 25 and 27 and just a few afterwards. Ticketmaster online & outlet and Fillmore box office tickets on-sale September 9th. http://thephilzone.com
09/14/01
Protect Our Forests, Rivers and Streams:
A Special Benefit Concert featuring special guests Danny O' Keefe and Cris Williamson, Bonnie Raitt and Band http://www.bonnieraitt.com/concerts.html
*HELPING HANDS FESTIVAL* RETT SYNDROME & MAKE A WISH-BENEFIT.
09/14/01
Nelson Ledges Quarry Park located in Portage County, N.E.OHIO
http://www.nlqp.com/
MUSIC AT CRITICAL JUNCTURES
09/11/01
Center for the Arts Wesleyan University 283 Washington Terrace Middletown, CT 06459-0442
Following the success of last season's World Percussion Festival, Wesleyan University's Center for the Arts will produce a second music festival, Music at Critical Junctures, Tuesday, September 11—Sunday, September 16. Featuring Pete Seeger, Holly Near and Black 47, among others, Music at Critical Junctures will highlight the role music and musicians play at crucial moments of social and political struggle. Focusing on three areas of the world, the conference will bring together the expertise of academic scholars and renowned musicians in lecture, panel, and performance formats culminating in Everybody Says Freedom, a free, outdoor day of performances and workshops. A keynote presentation by internationally renowned musician and activist Pete Seeger and Wesleyan professor RobRosenthal will open the festival on Tuesday, September 11, at 7 p.m.
OUR OWN BLACKOUT THE FIRST DAY OF SUMMER JUNE 21, 2001 THURS EVE
06/21/01 7-10pm worldwide, all time zones Worldwide As an alternative to George W. Bush's energy policies and lack of emphasis on efficiency, conservation and alternative fuels, there will be a voluntary rolling blackout on the first day of summer, June 21 at 7pm -- 10pm in any time zone.
CLEARWATER FESTIVAL LIVE TO THE WORLD
06/16/01
10am - 9pm New York WebCast WBAI Radio In Exile & Indymedia Centers Bring CLEARWATER FESTIVAL LIVE TO THE WORLD Broadcasting A Weekend Long Environmental Celebration At www.wbix.org, June 16-17, 2001 After a few successful LIVE EVENT webcasts, including a congressional forum coverage, www.wbix.org, WBAI RADIO IN EXILE, will be in Croton-on-the-Hudson, N.Y. for a weekend of leading edge radio production, celebration, creative energy and environmental awareness on Sat./Sun. June 16-17, 2001, from 10am to at least 9 pm. www.wbix.org www.clearwater.org
A Special Benefit Show for NC WARN
06/03/01
8:00 pm Cat's Cradle, Carrboro, NC Jesse Colin Young & Sons With special guest Jon Shain Sunday, June 3rd, 8:00 p.m. Cat's Cradle, Carrboro, NC Tickets on sale April 28th at area Schoolkids Records $25 general admission seating(this is a non-smoking show) Jesse Colin Young, singer of the Youngbloods and their signature hit theme song of the 60's, "Get Together," has been playing for almost 40 years. He co-founded the No Nukes Movement in the 1970's, and has been helping the cause ever since. All proceeds from the NC WARN show will go toward the CP&L waste expansion campaign. For special reserved gold circle seating and artist reception, or for more info, call 490-0747 or e-mail nc-warn@pobox.com. In association with the Guacamole Fund $25 General Admission www.ncwarn.org
The Songbird Foundation
06/01/01
8:00 pm Seattle, WA June 1, 8 pm The Songbird Foundation's benefit concert for the Sustainable Coffee Campaign Paramount Theatre Seattle, WA Hosted by Tom Robbins Performances by Jackson Browne, Bonnie Raitt, and Keb' Mo'Special Guest: Danny O'Keefe Tickets available beginning Earth Day: Sunday, April 22: Ticketmaster & Paramount Theatre www.jacksonbrowne.com
Woodstock Opera House Benefit with Rita Coolidge
05/19/01
6:00 & 9:00 pm Woodstock, Illinois RITA COOLIDGE will be performing tobenefit the Woodstock Opera House with her band: bass, LYNN KELLER, on Guitar, JOHN McDUFFIE on Percussion, LYNN COULTER, on Keyboard and Piano, JOHN THOMAS. The event will benefit the The Woodstock Opera House. Built in 1890 the Opera House has been at the core of community service in this area since its construction.$45 www.woodstock-il.com/opera/index.html
The Guthrie Center (Spring Benefit)
05/18/01 Housatonic, MA
Please visit Arlo's Site for information. www.arlo.net
Little City Benefit with American English
05/17/01
7:00 pm Hoffman Estates, Illinois American English, the forur award winning musicians who re-create a live Beatles concert will highlight a benefit for Little City Foundation. The event includes dinner, the Beatles concert, a raffle and silent auction. Tickets are $60 per person. Dinner will begin at 7:00pm with the program starting at 8:30 pm. For information or reservations call Ira Rosenburg or Kelly zFlorek at (815) 459-9000. Little City provides services for children and adults with developmental challenges such as mental retardation, cerebral palsy, Down Syndrome and epilepsy. The event is sponsored by Ira and Gary Rosenburg, of Crystal Lake Chrysler Plymouth Mitsubushi in Crystal Lake Illiniois. www.americanenglishbeatles.com
05/14/01
"Free Lisl" rally at the state Capitol. Attendees include songwriter Warren Zevon and writer Hunter S. Thompson. The rally coincides with the filing of a 98-page appeal brief prepared by the National Association of Criminal Defense Lawyers.

Warren opens the hour-long rally with a few inflammatory words about the Free Lisl Auman
New York State Labor & Environment Network's 9th Annual Labor & Environment Conference
05/06/01
12:00pm Albany, NY An invitation to people to participate in the New York State Labor & Environment Network's 9th Annual Labor & Environment Conference "No More Candy Store: How Corporations Get A Sweet Deal on Your Tax Money and Sour Jobs & The Environment" The Conference will take place Sunday May 6 at Empire State Plaza, State Street, Albany, NY, starting at noon and ending with a dinner at 6pm.
BamaWorks Foundation Benefit Concert
04/22-23 /01
see web site Charlottesville, Virginia Date: Sunday, April 22, 2001 -- 6pm (doors open at 4pm) Venue: Scott Stadium (at the University of Virginia)
City/Town (nearest): Charlottesville, Virginia Band: Crazy Horse Also appearing:Dave Mathews Band(Headliner)Soulive(Opening act)Ticket Info:Prices: "Best Available $46.50" (according to DMB website) On-sale Date: Saturday, March 31, 10am Available On-Line, at Ticketmaster outlets, or by phone: 804-262-8100 see web site www.dmband.com/bamaworks/default.asp
Alliance Concert
03/06/01
8 pm 74th Street and Broadway, New York March 6th Rainforest Alliance Concert Smart Sounds: Music for the Planet IV Beacon Theater 74th Street and Broadway, New York, NY 8 pm Tickets available at the Beacon Theatre, Ticketmaster, or Charge By Phone at 212-307-7171 VIP tickets: 212-677-1900 Hosted by Mary Stuart Masterson Also featuring: BR5-49, Clarence "Gatemouth" Brown, Levon Helm, Dr. John, Keb' Mo', Odetta, Southside Johnny, Kim Wilson All-Star Band: Cliff Carter, Steve "Boltz" Bolton, Babi Floyd, Jack Hale, Jim Horn, Steve Jordan, Danny "Kootch" Kortchmar, Joe Mulherin, Pino Palladino, Hubert Sumlin, Larry Taylor www.rainforest-alliance.org
Tibet House Benefit Concert 2001
02/26/01
Tibet House U.S. 22 West 15th Street New York, New York 10011 Please join Tibet House on February 26, 2001 annual Benefit Concert. Performers: Philip Glass, Dana Bryant,Emmylou Harris, Patti Smith, David Bowie, Nawang Khechog,Natalie Merchant, Moby, Rahat Nusrat Fateh Ali Khan, and Tibetan Monks (Gomang). (212) 247-7800 www.tibethouse.org
BENEFIT CONCERT FOR SPECIAL NEEDS CHILDREN
02/18/01
Long Island New York BENEFIT CONCERT FOR SPECIAL NEEDS CHILDREN- LEGENDS OF AMERICAN FOLK MUSIC, NOEL PAUL STOOKEY OF PETER, PAUL & MARY accompanied by DICK KNISS AND ERIC ANDERSEN WITH GUEST EMCEE JOHN PLATT OF WFUV-FM SUNDAY, FEB.
Pete Seeger's Peoples Music Network Winter Gathering
01/26/01
All Weekend MD Fox Elementary School on 470 Maple Avenue in Hartford, CT PRESS RELEASE PEOPLE'S MUSIC NETWORK (PMN) Peoples MusicNetwork/Songs of Freedom and Struggle is holding a concert on Friday, January 26, 2001: You Can't Kill the Spirit at the MD Fox Elementary School on 470 Maple Avenue in Hartford, CT. A group of national and community musicians, performance artists and organizers are producing this event. The concert will feature such artists as Pete Seeger, Mixashawn, Ababukar and Babafemi, poetM aggie Greene, Jane Sapp's Community Children's Chorus, N'Zinga'sDaughters,Bread and Roses, martial artist Freddie Adamson and much more. PMN is a national network of people who use music, dance, storytelling,and poetry to promote progressive ideas, and to transform ourselves and our communities through our music to bring about a better world. We hope that this event will springboard into the formation of a local Hartford PMN chapter. The concert is a part of a weekend conference, which also takes place at MD Fox Elementary School. www.peoplesmusic.org
2000 EVENTS
Children's Music Concert: Pete Seeger NY
12/17/00
Fieldston School, Bronx NY Songs of the River: a concert for families, to benefit the Hudson River Sloop Clearwater Sunday Dec. 17 4 pm, at the Fieldston School, Bronx NY. Featuring music by Paul Benzaquin, Betty Boomer, Andy Craig, Suzanne Hochstein,Pat Humphries, Jody Kruskal, Sandy Opatow, Pete Seeger, and Karen Wilson. Support Clearwater and the Hudson River by spreading the word about this event. For more info www.clearwater.org
Los Angeles 4 Kids
12/05/00
5:30 pm California Plaza Watercourt, 350 S. Grand; Los Angeles, CA Los Angeles 4 Kids
Jackson Browne Benefit Performance - The Folkscene
11/28/00
7:00 PM FolkScene Benefit Concert The Troubador 9081 Santa Monica Blvd. West Hollywood, CA
Recently Announced Jackson Browne Performance: Nov. 28th FolkScene Benefit Concert The Troubador 9081 Santa Monica Blvd. West Hollywood, CA 7 pm show start Other artists on the bill: Lowen and Navarro, Peter Case, Joel Rafael Band, www.folkscene.com $25 www.jacksonbrowne.com
Guacamole Benefit/The Grace Center Benefit with Crosby and Nash
11/19/00
Please call or vist www.ticketmaster.com Wilshire Ebell Theatre in Los Angeles, CA
Graham Nash and David Crosby have asked us to help produce a benefit concert in support of the Grace Center on Sunday, November the 19th at the Wilshire Ebell Theatre in Los Angeles. On sale TicketMaster on November the 4th. The Grace Center is a sanctuary for children and their families who have been victims of sexual abuse and violence. They serve the greater San Gabriel Valley (three locations) and all of their services are free. They provide: 24-hour emergency response, Crisis intervention, counseling and evaluation, Complete confidentiality and anonymity, Support groups with free child care, Advocacy with social services, legal and judicial systems. Last year the Grace Center served over 800 family members with a team of eight professionals and 50 dedicated volunteers. David and Graham will be joined by special guests Julia Fordham and Judith Owen and the show will be hosted by Harry Shearer. www.grace-center.org.
Pete Seeger Event
11/18/00
The Community Church of New York Unitarian 40 East 35th Street, New York, NY The Community Church of New York Unitarian Universalist - Come Celebrate our 175th Birthday Concert Party Led by PETE SEEGER Musician,Songwriter, Folk Singer, Activist, Storyteller Sunday, November 19, 2000, 3pm EVERYONE IS WELCOME A freewill offering for Project Harmony will benefit the Community Gardens of Harlem The Community Church of New York Unitarian 40 East 35th Street, New York, NY 10016 (between Park and Madison Avenues)
Rock the Vote - Washington D.C.
11/04/00 Washington D.C.
Stevie Wonder will perform in Chicago
11/02/00
W. Randolph at N. Dearborn Street, Chicago IL
Please bring your friends, family and neighbors to Daley Plaza in downtown Chicago this Thursday morning and join Al Gore in his fight for all Illinois families. Special Guest Stevie Wonder will perform just before Al Gore takes the stage. Actor John Cusack will also speak at the event.The gates will open to the public on W. Randolph at N. Dearborn Street at 10:30 AM.Parking round Daley Plaza will be extremely limited. Please take advantage of public transportation (El: Blue or Red Line).The event is free and open to the public. Free tickets for this historic event are available at a number of locations in Chicago and the surroundingarea: The event is free and open to the public.
The Bridge School Benefit
10/28/00
5:00 pm and Oct. 29, 2000 @ 2:00 pm
Shoreline Amphitheater in Mountain View, California.
The Bridge School is proud to announce: Two Very Special Acoustic Evenings The 14th Annual Bridge School Benefit Featured Guests include: Neil Young
Tom Petty & The Heartbreakers Dave Matthews Band Red Hot Chili Peppers Crosby, Stills, Nash & Young Beck Foo Fighters Tegan & Sara Saturday, bridgeschool.org
Honor the Earth
10/17/2000
Nation Wide: Bonnie Raitt, Jackson Browne, Indigenous and special guest Joan Baez will join Indigo Girls on a select set of shows as we rock across the country with a three-week set of high impact events to change the odds in Native struggles. Struggles that effect all of us. As with past tours, every stop on this year's tour willhighlight Native activists and groups and offer the pubic concrete ways to support Native environmental work. We'll feature impacted community spokespeople at every stop, conduct daily press conferences and hold a set of reservation rallies and shows to build momentum for local Native initiatives. Join with us on this journey to educate, mobilize, fundraise and celebrate front-line Native environmental struggles with music. honorearth.org
People's Music Network, in conjunction with the Food Bank of the Hudson Valley
10/07/00
Studley Theater, SUNY New Paltz, New York
People's Music Network, in conjunction with the Food Bank of the Hudson Valley, will hold a fundraising concert on Saturday, October 7, 2000 in Studley Theater
MAGPIE - Benefit Concert for Susquehanna Flats Environmental Center
09/30/00
Havre de Grace Maritime Museum, 100 Lafayette St., Havre de Grace, MD Concert to benefit Susquehanna Flats Environmental Center of Havre de Grace Maritime Museum. Environmental, topical, historical, and classic jazz music by this excellent vocal instrumental duo. See their website at magpiemusic.com.Held in the intimate setting of our new museum building. SusFlats.org
Rally & public hearing on Hate Crimes in Mississippi
09/29/00
On Friday, September 29, 2000 from 9:00 to 5:00 there will be a public hearing on Hate Crimes in Mississippi. On Saturday, September 30, 2000,there will be a march and rally in memory of Raynard Johnson, found hanging in front of his family home on June 16th in Kokomo, Mississippi and Mitchel Virgil, who was murdered by a police officer in Gulfport, Mississippi during Black Spring Break weekend.
Friends of the Dream Foundation
09/28/00
8:00 pm Santa Monica Civic Audiorium, Santa Monica, CA Friends of the Dream Foundation On September 28th, Kenny Loggins joined Melissa Etheridge, Graham Nash, Chris Cross, Jeff Bridges, Taylor Dane, CPR and David Crosby in a benefit performance for The Dream Foundation, at the Santa Monica Civic Auditorium in Los Angeles. $ www.dreamfoundation.org
Paul McCartney Breast-cancer Benefit Concert
09/26/00
Paul McCartney, former Wings and Moody Blues guitarist Denny Laine, and a host of other musicians will perform a breast-cancer benefit concert on September 29 at the Bronco Bowl in Dallas. A portion of the proceeds from the show, dubbed the Wings Of Love concert, will go to the MRI Breast Cancer Research Program. McCartney and Laine will be joined by Thadeus Richard, Steve Howard, and Tony Dorsey--members of the horn section that toured with Wings and played on several albums--as well as Gordon Wailer (of Peter & Gordon), Scott Moss, and Ashlie Rhey.
NATIONAL RALLY & CITIZEN VOTE FOR CAMPAIGN FINANCE REFORM
09/19/00
5:00 pm eastern time West Steps of the Capitol Building in Washington, D.C.
'NATIONAL RALLY & CITIZEN VOTE FOR CAMPAIGN FINANCE REFORM
David Crosby, Graham Nash, Stephen Stills, Sheryl Crow, Doris Hadock (www.Grannyd.com) The rally will call for and kick off a nationwide citizen vote on campaign finance reform, as well as mobilize public opinion on behalf of meaningful legislation.
Farm Aid
09/17/00 Nissan Pavilion in Virginia Farm Aid 2000, our 15th Anniversary concert to benefit family farmers, will be held on September 17th, 2000. Farm Aid will return to the Nissan Pavilion in Virginia, close to Washington DC, in order to build upon the political – and musical – impact we made there last year. Since 1985 Farm Aid has worked hard to produce concerts that raise money and give a voice to family farmers. The urgency created by the destruction of family farms requires the best music possible and the strongest political voices in Washington this crucial election year. www.farmaid.org info@farmaid.org
Benefit Concert for the Plight of the Redwoods Campaign and the Mendocino Environmental Center
09/15/00 7:30 p.m.
Willits Environmental Center, 316 S. Main Street (Highway 101), Willits, CA
Concert to raise money for organizations working to save the last 3% of the ancient Redwood trees and their surrounding ecosystems (including Coho salmon) in California, featuring acoustic duo $3-$15

Benefit - James Taylor
09/13/00 Boston Park Plaza Hotel
JACKSON BROWNE AND CPR 3RD ANNUAL VALLEY MUSIC FESTIVAL
09/12/00

2 for 1 Learning for Life Program
09/01/00
A Better Chance at Life for Children for Extremely Poor Children in Peru, learning to read and write and receiving a quality basic education should be something that all children can take for granted. But in the extremely poor neighborhoods around Lima, Peru over 100,000 children fail primary school each year. In general, they fail because of the poverty conditions in which their families live results in lack of any early childhood education.
Friends of Fred Walecki Benefit
08/08/00
Santa Monica Civic Auditorium, Santa Monica, CA
Both concerts (Aug 8 & 9, 2000) will feature Linda Ronstadt, Emmylou Harris, Bonnie Raitt, Jackson Browne. David Crosby & Graham Nash and special guests David Lindley, Warren Zevon, Chris Hillman, Cohn Hay and the Grease Monkeys with Jennifer Condos, Ry Cooder, Andy Fairweather Low, Ethan Johns, Bernie Leadon and Wix. With special appearences by Roger McGuinn, Don Henley and Jeff Bridges. This gathering of the clan benefit concert - is in support of the Friends of Fred Walecki, who are donating their time to raise money to help Fred and his family. Fred has had serious surgery causing disability, due to throat cancer, has two young children and has incurred many medical expenses not covered by insurance.
11th Annual Verde Valley Music Festival
08/07/00
www.verdevalleyschool.org Sedona, Arizona
Benefit concert for the Native American Scholarship Project hosted by Jackson Browne.
Trisha Yearwood, Bruce Cockburn, Patty Griffin, Keb' Mo', Ulali. Special Guest - Annie Humphrey. Sunday October 8th lineup: Ben Harper, Indigo Girls, Nanci Griffith, Inigenous, Joel Rafael Band. Special Guest - Michelle Branch. Information from Verde Valley School.
Earth Day Rally
2000 Earth Day Rally and Fair in Washington DC. Leonardo DiCaprio and special guests: Bill Nye the Science Guy, Carole King, Chevy Chase, Clint Black, Congregation, David Crosby, Denis Hayes, Edward James Olmas, Indigenous, James Taylor, Keb'Mo', Marian Wright Edelman, Melanie Griffith, Sweet Honey in the Rock, Third Eye Blind, Urban Nation Choir and more.
1999 - 1986
In process.
September 22, 1985
Farm Aid I
Champaign, Illinois
It raised over $7 million for America's family farmers. The original concert occurred only 21 days after the idea was launched, one of the greatest logistical achievements in music history.

Artists Performing:
Alabama, Dave Alvin & the Allnighters (Blasters), Hoyt Axton, Beach Boys, Jon Bon Jovi, T Bone Burnette, Glen Campbell, Johnny Cash, Jubal Clarke, David Allan Coe, John Conlee, Danny Cooksey, Charlie Daniels Band, John Denver, Bob Dylan, Joe Ely, John Fogerty, Foreigner, Vince Gill, Vern Gosdin, Arlo Guthrie, Sammy Hagar, Merle Haggard, Charlie Haid, Daryl Hall, Emmylou Harris, Don Henley, Timothy Hutton, Waylon Jennings, Billy Joel, George Jones, Ricki Lee Jones, B.B. King, Carole King, Kris Kristofferson, Bobby Krueger, Huey Lewis, Lone Justice, Loretta Lynn, Delbert McClinton, John Mellencamp, Roger Miller, Joni Mitchell, Willie Nelson & Family, Randy Newman, Roy Orbison, Tom Petty, Charley Pride, Bonnie Rait, Lou Reed, Judy Rodman, Johnny Rodriguez, Kenny Rogers, John Schneider, Brian Setzer, Southern Pacific, Sissy Spacek, Tanya Tucker, Eddie Van Halen, Dottie West, Debra Winger, Winters Brothers, Neil Young.
George Harrison's
Concert for Bangladesh
August 01, 1971
8:00pm Madison Square Garden New York
The 1971 concert at Madison Square Garden assembled by George Harrison to raise funds for UNICEF's relief efforts to aid war victims in Bangladesh. Ringo Starr, Eric Clapton, Bob Dylan, and Ravi Shankar are among the many performers who took part in the concert. Thank you for this inspirational concert to inspire change through music.
The Beatles
All You Need is Love Worldwide Broadcast
June 25, 1967
One of the most celebrated pop singles ever, this anthem for love was broadcast virtually as it was recorded - live - in Our World, the first global TV programme, seen by satellite over much of the planet on June 25 1967 John wrote 'All You Need Is Love' especially for Our World, following a brief by the BBC.
November 1, 1965
Bill Graham - Concert and Benefit Promoter
Bill Graham presents his first show at The Fillmore.